Fifth Generation Family Farm
Specializing in locally grown vegetables, fruits & Christmas trees as well as farm fresh eggs and jams & jellies.
Inman, GA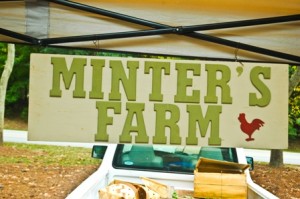 Welcome to www.mintersfarm.com, the official website for Minter's Farm and Inman Farm Heritage Days. The farm is located only 6 miles from downtown Fayetteville, 12 miles from Senoia and 16 miles from Peachtree City.
The new year is now upon us and we're busy getting the Christmas tree fields cleaned up and ready for more trees. Last year's season was incredible and has us excited about getting all the fields ready for the coming years. It's a difficult process getting the fields ready this year (all this rain is really making it difficult to get our implements out there) but hopefully we'll get them in by the time it rains again… which will be sooner than anyone would like.
The 2015 CSA Program was a great success! And we're delighted to say we will be doing another program for 2016. Check back later for specifics as we will be finalizing plans in the next couple of months.
Mark your calendars for Minter's Farm's events in 2016:
The 7th Annual Inman Antique Truck Show will take place June 18th, 2016. The Griffin Piedmont Region of the Antique Automobile Club of America will also be hosting their event the same day.
The 20th Annual Inman Farm Heritage Days will be this year! Save the dates: September 16th, 17th & 18th. It's going to be a grand adventure and we will be posting various pictures on our new Facebook page for Inman Farm Heritage Days. Check it out and be sure to keep a lookout for updates as well.
Bring the families out for good, old-fashioned family fun!
Some have had many people express an interest in our weekly blogs on "Postcards from the Po' Farm" so we decided to start up a newsletter in the new year! If you would like to sign up for our newsletter:
It's very exciting to see such an interest in the farm and what we're doing. Thank you!
We are still attending the Peachtree City Farmers Market's (Wednesdays and Saturdays from 9AM-1PM in the parking lot by Partners Pizza) with seasonal produce, jams, and jellies.
Keep checking out the website, Facebook and Twitter (@mintersfarm) so you can keep in touch with the farm.
"Photos from the Farm" will allow you to follow our activities from season to season as will the "Postcards from the Po' Farm."
If you need more information or if we can help you in any way, contact us using the contact form or call us at 770-461-2840.
See you soon,
Rick, Joanne, Stephanie, Tammy and Abigail