Fifth Generation Family Farm
Specializing in locally grown vegetables, fruits & Christmas trees as well as farm fresh eggs and jams & jellies.
Inman, GA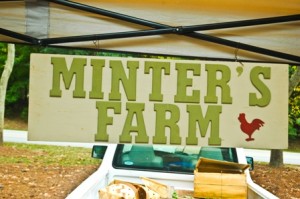 Welcome to www.mintersfarm.com, the official website for Minter's Farm and Inman Farm Heritage Days. The farm is located only 6 miles from downtown Fayetteville, 12 miles from Senoia and 16 miles from Peachtree City.
What a summer we've had! The weather is hot and it's barely August. We're getting crops picked for our CSA program and the PTC Farmers Market, Joanne has been making jams and jellies… it's been a crazy last few months. Our poor helpers are heading back to school soon (they've been wonderful and we're truly going to miss them) and I'm sure they're looking to get out of the heat. Things are going to be a little chaotic the next few months here – Joanne is having hip surgery the 10th of August, our CSA program is almost at the mid-way point and going strong, and the 19th annual Inman Farm Heritage Days is just around the corner. We're beginning to sell ads for the program and accepting vendors as well. Let us know if you're interested – call Stephanie @ 770-296-8360 or email her at stephanie@mintersfarm.com.
WE HAVE MUSCADINES READY! Our vines are loaded with muscadines and our U-Pick is ready to go — $1.25/lb. Come out and see us. Call 404-202-0419 to let us know you're coming and we'll meet you here!
Also, our flock of laying hens' feed has officially transitioned over to a non-GMO, no soy based feed. They finally decided to start eating again (after several weeks of boycotting) and the fans are working and the GIANT snake is now in a better place… they're finally beginning to lay again! Slowly but surely they're picking up the pace, so we should start having extra eggs at the market on Saturdays again.
Some have had many people express an interest in our weekly blogs on "Postcards from the Po' Farm" so we decided to start up a newsletter in the new year! If you would like to sign up for our newsletter:
It's very exciting to see such an interest in the farm and what we're doing. Thank you!
We are still attending the Peachtree City Farmers Market's (Wednesdays and Saturdays from 9AM-1PM in the parking lot by Partners Pizza) with seasonal produce, jams, jellies and farm fresh eggs that are collected, washed, candled and graded each day.
Keep checking out the website, Facebook and Twitter (@mintersfarm) so you can keep in touch with the farm.
"Photos from the Farm" will allow you to follow our activities from season to season as will the "Postcards from the Po' Farm."
If you need more information or if we can help you in any way, contact us using the contact form or call us at 770-461-2840.
See you soon,
Rick, Joanne, Stephanie, Tammy and Abigail